Pet Portraits
You can order a true ORIGINAL, HAND PAINTED piece of ART to immortalize your beloved pet
Order Now
Carol did such an extraordinary job capturing our faithful loyal companion, Buck. 
 Her painting of him was so life-like, and looking into his eyes brought back SOOOO many emotions! 
Carol puts her heart and soul into her paintings.  She truly loves what she does and she gives her all to make sure everything is perfect! She does not waste her God given talent, she glorifies Him in every canvas, paint brush, easel, color and stroke!               -Sharon, Knoxville
Meet the Artist
I love sharing the Havanese with others,  but painting  is my biggest passion.  I have been an artist since I was three years old drawing on everything I could get my hands on.  Later I attended art school which allows me provide you with the highest quality portrait.    I have painted   pet portraits, people portrait  and other commissions for over 35 years.  I am now expanding my business online.  Please visit my  art website   where I   offer portraits of people as well as decorative art.
I like to capture the "soul"  and personality of the animals instead of just the image.
I work from photos so it is very convenient for all.   This provides convenience for you since you can send me several pictures of your pet and we can pick the best one or combine parts of several to create the best possible final product.
I work with acrylics on museum canvas (1.5″ wrap around) or canvas board if you prefer to frame your artwork.  On museum canvas I  paint around the sides so it does not need a frame.    The hard canvas makes it easier  for you to  frame.   All art is unframed so you can pick a frame that best fits your decor or you can leave it as is.
You can give a gift certificate for the portrait and they can send me their favorite pictures.    I will email you a gift certificate you can use as the gift and they can email me the photos. More details in FAQ section below.
PRICES

If it says "head only" its because that small of a canvas will not allow enough room for detail on an entire dog body.
I am dedicated to a quality painting that will bring you years of joy.   Your satisfaction is guaranteed.  Deposit is $150 and balance is due when the painting is done and ready for shipment.   I require a 2 to 6 week lead to paint a pet portrait. It may be 2 weeks,  but it depends on how many others I'm working on at the time.  If it is a Christmas gift,  I do my best to have all those done in time.  Please call me to discuss details and scheduling.  I can be reached at 865-262-8422 or email me at PetPortraits
 Once Painting is started,  fees are non-refundable. but I  will work on it until you are happy with it.   I've never had an unhappy customer.
How To Select a Good Photo
The best paintings come from the best pictures.  A picture taken outdoor with good light is best.  Flash picture usually give red eye and make it hard to see the eyes.  If the pet is  a small part of a bigger picture,  it will not contain enough detail to paint well.    I'm happy to go over your pictures and suggest which would make the best portrait.
Picture taken outside are best as daylight gives lots of detail and shadows add interest to the picture.   Take your pictures  at the same level as the pet rather than standing over them for a better angle.   If you take the picture outside,  you can kneel down to the dogs level to get a level picture.
I its an indoor picture,  use a flash as it enhances the detail.   If you get red eye I can fix that with an extra picture that lets me see eye color.    If your pet is deceased,  we'll try and work with what you have to make a good portrait.
See the difference in these images.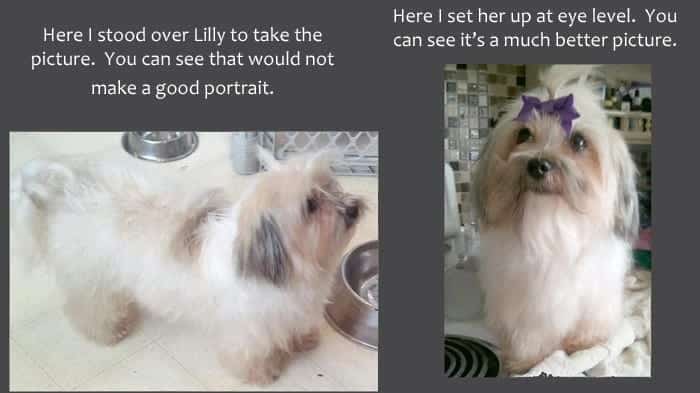 FAQ
 Q.  Do you use canvas?
A.  I work with acrylics on museum canvas (1.5″ wrap around) or  if you prefer to frame the piece, I use canvas board.  On museum canvas I  paint around the sides so it does not need a frame.    The hard canvas needs a frame.   All art is unframed so you can pick a frame that best fits your decor.
Q.  Can you combine two pets into one picture?
A.  If the lighting is very similar and from the same direction,  that can be done.
Q.  If I want to mail a check,  where do I mail it?
A.  Write and mail to Carol King  PO BOX 1295  Kodak,  TN 37764    Always Email me first to expect your check.
Q.   How do Gift Certificates work?
A.  I will email you a numbered gift certificate which you can give to your friend or loved one.  They will contact me from the information on the certificate and we proceed from there.
Q.  Can you do a rush order?
A.  I can if I don't have other rush orders in front of yours.  That would cut the time from painting to one week because I can paint it in a couple of days but it takes a few days to dry before it's safe to mail.  A $70 rush order fee will apply and is payable up front.
Q.  Do I have the rights to reproduce or print the art you make for me?
A.  No.  According to copyright laws,  while you have the original,  all reproduction rights remain with me as the artist.  That means that I may use an image of my art for promotional purposes.    It would not contain any identifying  information, of course.   You may not reproduce it in any way,  but you can use it privately such as posting the image on your Facebook page, twitter, etc.
Order Your Custom Portrait Now
If you are ready,   you can order and upload the images you like.  We  can visit over the phone or email and  I am happy to answer your quetions and discuss the best poses, backgrounds, etc.