I love Havanese and helping families find their perfect companions,  but my true love is painting.  I have been an artist since I was 3! 
I offer a Custom ORIGINAL Pet portrait painted in acrylics on a 12×12 or 16×16 panel which does not need framing (although it can be if you like).  Get a one of a kind painting that uniquely reflects your pet.  Hand painted  on a prepared panel and sealed with UV protection to provide protection for many years to come.
This is NOT a print of a digitally edited image like others you see online. 
It is an ORIGINAL Hand Painted piece of art.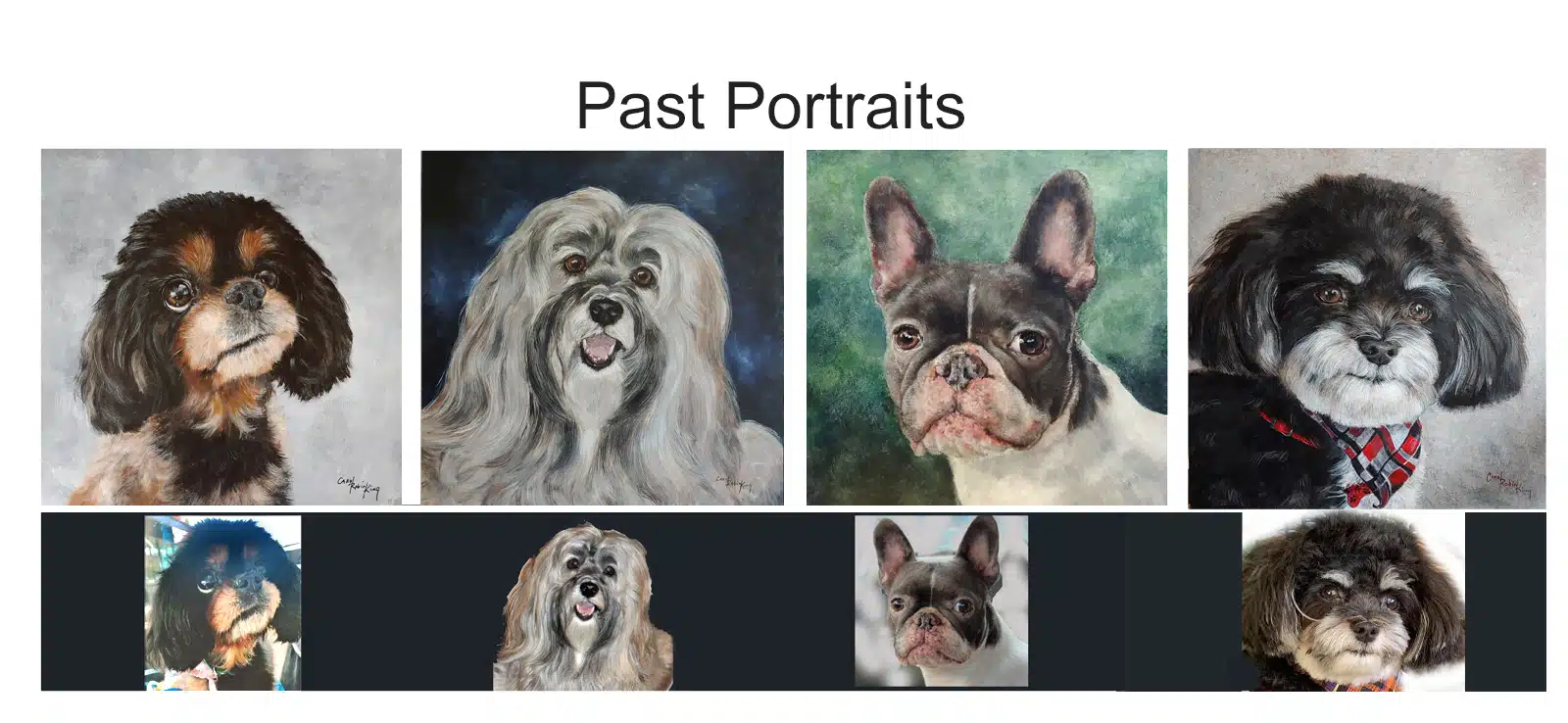 Order a Custom Hand Painted pet portrait!
 Current special DISCOUNT!   Use COUPON CHRISTMAS30 

for a 30% discount!



(One pet,  head only.   Second pet can be added to this size for additional $50. For a custom size, please contact me )
(plus $15 shipping if you are not in my area)
We live in Kodak, TN in the outskirts of Knoxville.
You can email or mail your pets pictures for me to paint into a custom Acrylic  piece of art.
Portraits can be picked up at my studio or mailed to you within the continental US.
Click link below to find out more and order
For anyone wanting a portrait of their animal Carol King should be you only choice.
I love the portrait Carol did of my dog Hollie. The portrait of Hollie is so beautiful. When I look at Hollie's portrait it seems Hollie is looking right back at me as if she is going to talk to me. The details in her face are so natural and the coloring is perfect. I wouldn't take any amount of money for it, it's priceless to me.
Carol did such an extraordinary job capturing our faithful loyal companion, Buck. 
 Her painting of him was so life-like, and looking into his eyes brought back SOOOO many emotions! 
Carol puts her heart and soul into her paintings.  She truly loves what she does and she gives her all to make sure everything is perfect! She does not waste her God given talent, she glorifies Him in every canvas, paint brush, easel, color and stroke! 
Carol, when visiting your studio we were so impressed with your pet portraits that we commissioned you for two portraits. We are thrilled with the results! You are wonderful to work with, very caring in your need to get it right, and you completed your work much quicker than we ever expected. Thank you so much. We highly recommend you for pet portraits. L & C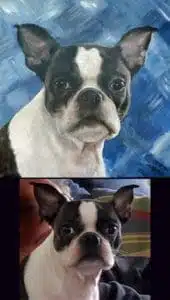 I had Carol paint of our retired Bostons. (Von who was my brother's dog before he died) as usual, she did an amazing job.  If you've been thinking about getting a pet portrait, she can create that cherished gift for you!  

HOW IT WORKS
You can email or call me and discuss your custom pet portrait or you can order it online and email your images.  I am more than happy to discuss the details and help you determine what picture would make the best portrait.


see our puppies in action