AVAILABLE PUPPIES
(865)262-8422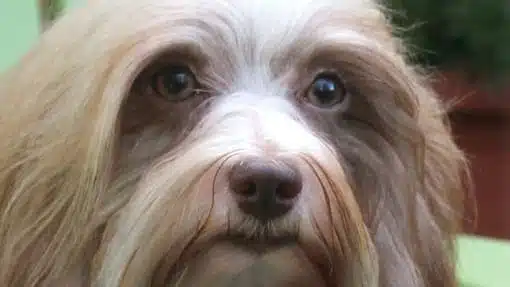 Welcome to KingsKids Havanese where we grow  adorable, intelligent,  healthy  Champion backed Havanese puppies  for loving homes.  Parents are Top quality AKC and Health tested for your peace of mind.
DON'T Settle for Anything Less  than a  KingsKids Havanese puppy! 
AVAILABLE PUPPIES   These boys can go home week of December

11
Rudy– Male $3500   AVAILABLE

Rudy is a red brindle Havanese.  His color is coming in a gorgeous deep red with black tips and tan points.  He will be stunning for sure!!  Rudy is very social and affectionate.  He runs up along with the others as soon as I get near.  He loves to stay close and cuddle.  His personality is easygoing and he will lay on his back for me very easily and stay there.

Cupid– Male   $3500 – Reserved by Stefanie

Cupid is coming in a gorgeous red color.  It will lighten some probably,  but he will assuredly be stunning. He is very easygoing and compliant and has been since birth. His personality is easygoing and he will lay on his back for me very easily and stay there.  He loves a belly rub and sometimes flops over as soon as I reach down to him.  He is very affectionate.

How our puppies are raised
We grow adorable, intelligent, healthy Champion sired or Champion  bloodline Havanese puppies raised with love for loving homes. Parents are Top quality and Health tested for your peace of mind. DON'T Settle for Anything Less than a KingsKids Havanese puppy!
Your puppy is birthed in my front room and raised in my kitchen.  They are well socialized and loved from the moment they are born.  Havanese are a fantastic breed and a well raised puppy will bring you many years of pure joy.   Get in line soon to get the best pick! Read more about how they are raised on our faq page  
WARNING!!!! 

There are scammers taking advantage of the run on puppies right now.   They pretend to be reputable breeders and use pictures from breeder websites to advertise and get people to give them deposits on the "last puppy".  

Please know  that I NEVER even take a deposit  without an application and a phone interview with me personally.
2022 litters
Previous babies in their forever homes now
At KingsKids Havanese we don't ship puppies so we only service the eastern US.  We prefer to have you pick them up at our home.  However, if you live a ways away,  we can often meet partway to get the puppy in your arms.  We have happy puppies in New York, New Jersey, Deleware, Rhode Island, Virginia, Kentucky, West Virginia,  Georgia, Alabama, North Carolina, South Carolina, Indiana, Ohio, Alabama,  Florida and of course… Tennessee!
Calle
Calle is the sweetest, kindest puppy. He has been an incredible addition to our family. He was easy from day one. He is fun and playful while at the same time also affectionate. He loves belly rubs. He is also very bright and alert. Havenese are known for being good little watch dogs and he definitely fits this description. He has a surprisingly deep bark for an 11 pound dogs. While mostly quiet he will let you know if he hears a strange noise or sees an animal or stranger approaching. He is everything Carol said plus!
– Maria – Nashville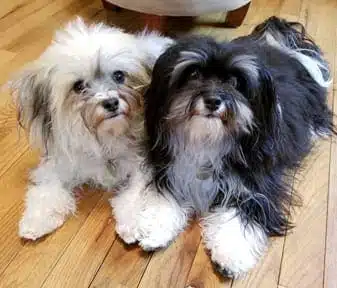 Scarlett and Willow
After many months of researching Havanese breeders I chose KingsKids based on several aspects, especially health.  We loved our first puppy so much we ended up getting a second one just eight months later!  Scarlett and Willow are happy, healthy dogs that make us laugh every day!  They have added much joy to our lives!  Carol is wonderful to work with and always responsive to texts and emails.
– Cathy – New Jersey
Murphy
Hi Carol, Just wanted to send you my favorite pic of Murphy and let you know he is doing wonderful!
He is a very well behaved puppy and is so smart!  We just finished puppy class and he passed with flying colors and was the most sociable puppy in class.
We are so very happy with him and feel like we are the lucky ones to have found you and him.
Thank you for all the early work you do with your puppies, it really produces the best puppies ever!
(We are still working on liking to ride in the car but that is also getting better, mountain roads are a bit harder to get use to!)
Murphy (former Parker) sends his love
Barbara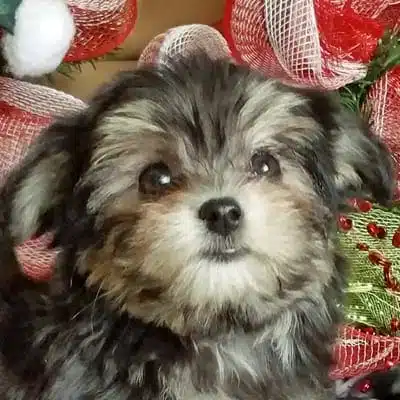 LOUIE
Hi Carol,
We are enjoying Louie soo much. I must tell you the xs harness we got for him is still too big. He was a whopping 2.2 lbs on the 24th of Dec. I do try to overlap it the best I can but he can manage to escape it. One night after toileting I was picking it up and I thought he was right there with me only to turn around and find him at the back door ready to go in. Next morning he had again got out and this time he was carrying his harness to the back door.
He is such a pleasure. I'm so glad I did my research and found you dear Carol, you are absolutely a cut above the rest.
Thanks for all you do to breed wonderful Havanese puppies.
Always,
-Margo and Ray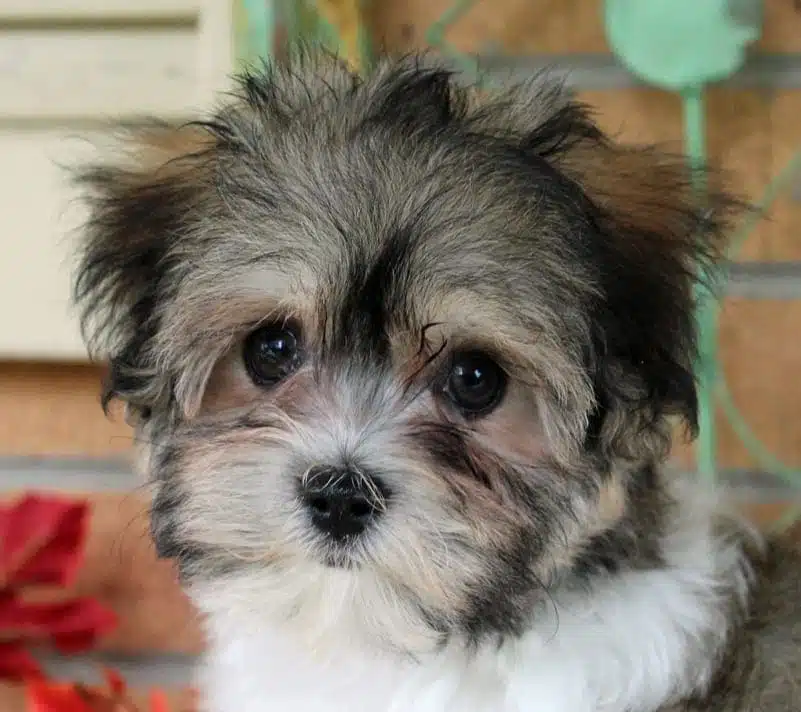 PEYTON
"We adopted Peyton last Tuesday and can't believe what a wonderful dog he is. We have another Havanese from another breeder. He is 22 months old and a great little guy. But he was hard to house train. Peyton has had one accident since he's been here and that was my fault. He is pee pad trained but would rather go outside already. He's 14 weeks and comes whenever I call him. Carol certainly raises great little puppies. He is well socialized, friendly, funny and smart. Not even afraid of the vacuum. He had become a forever addition to our family and the two dogs are having a blast. I would definitely recommend one of Carol's puppies to anyone looking for a Havanese."   Renee in Knoxville. see the testimonial on our facebook page
-Renee, Knoxville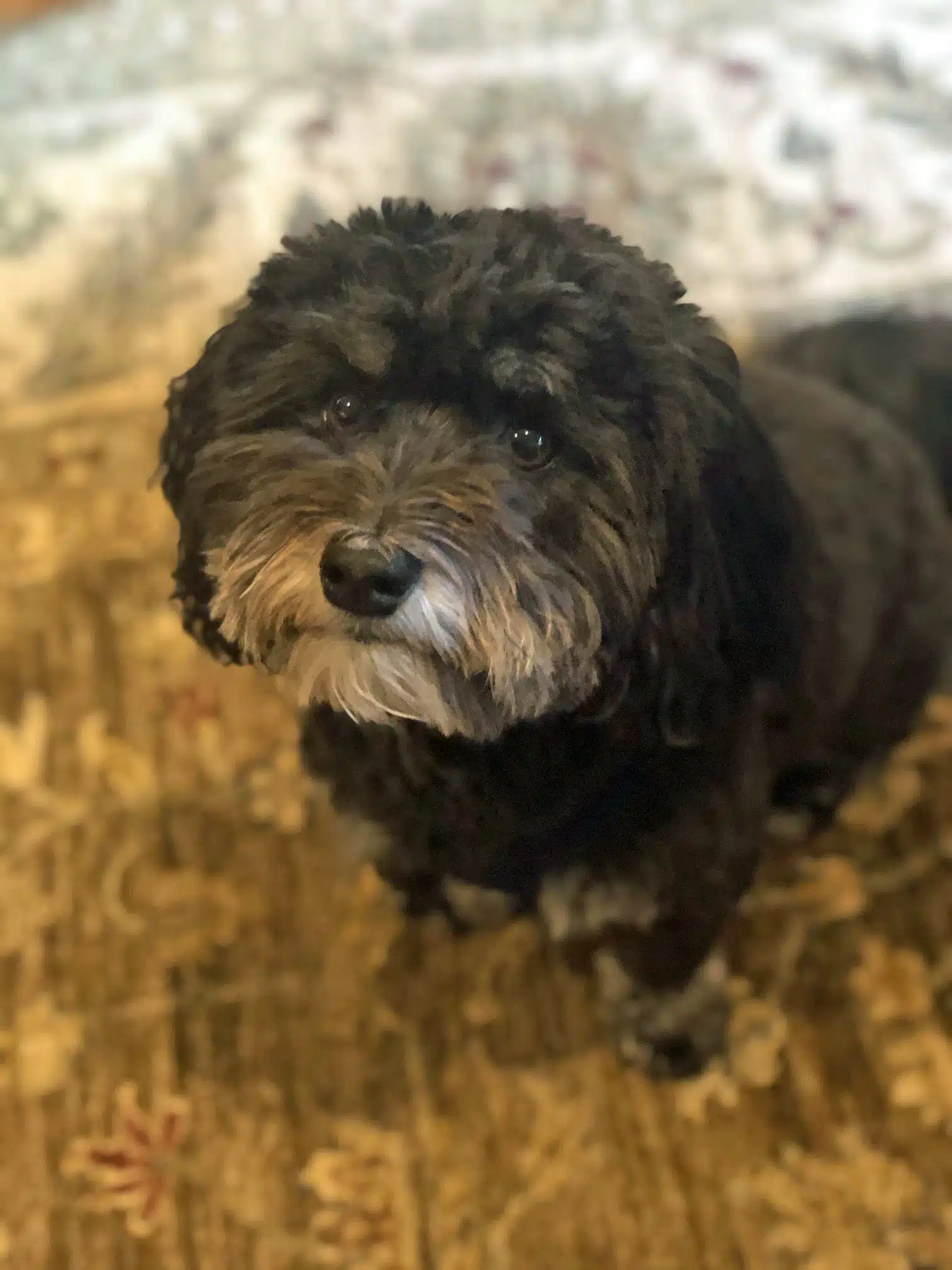 Atlas
Hi, Carol,
What a wild year!  How thankful we are that we had sweet, playful Atlas (aka Sonny) by our side!
Atlas is a soft bundle of joy. He loves to go on long walks, play fetch, and cuddle. He is a great dog! Thank you so very much for entrusting us to his care. 
I hope all is well with you and your family. Wishing you all the best this summer and always,
– Susan – Brentwood,  Tennessee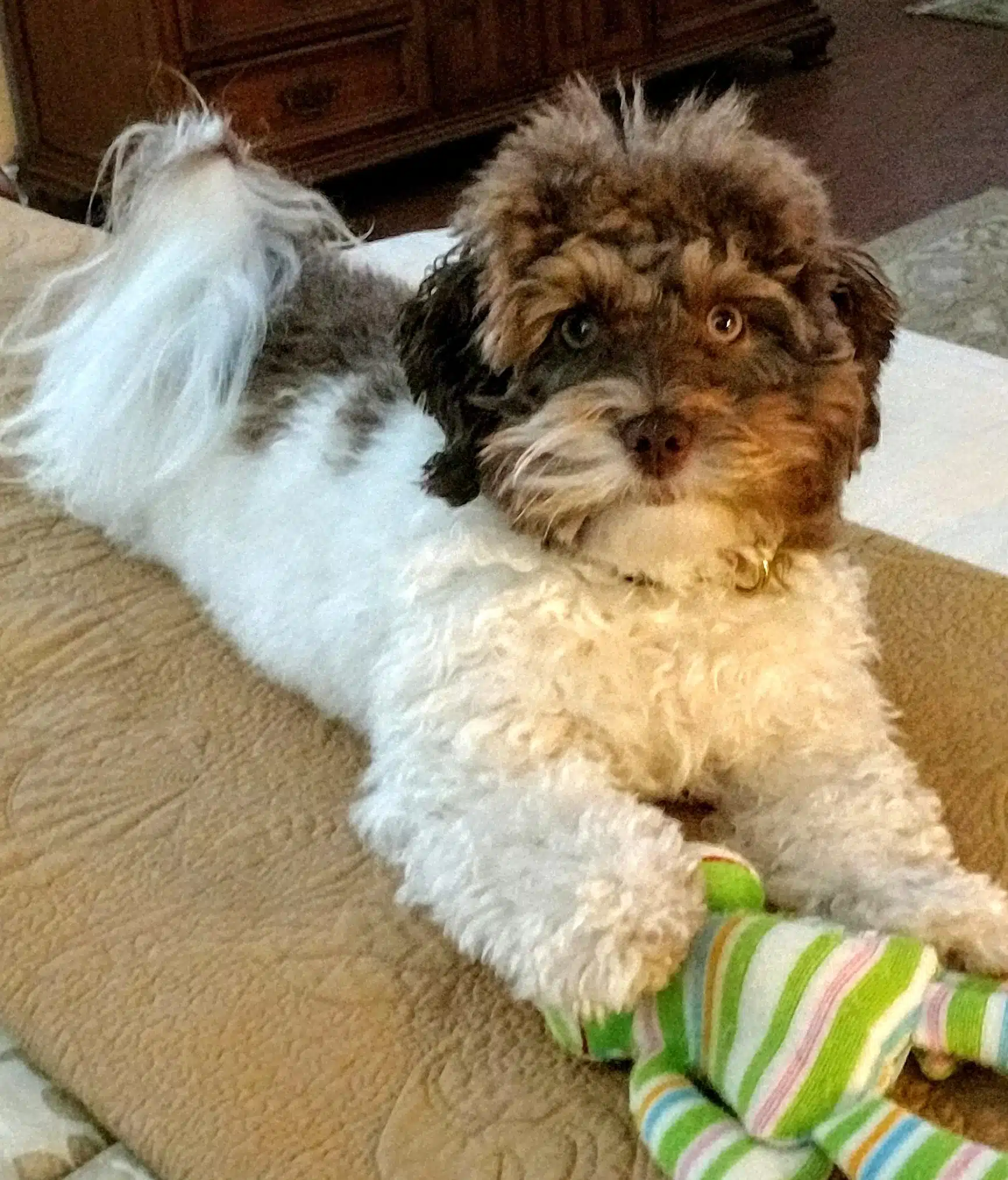 TRUFFLES
One year ago today you placed this little angel into my arms. I can't begin to imagine my life now without Truffles. She has filled my home with so much love and laughter. Some say, she is a bit spoiled. I say, she deserves to be…she mended a crack in my broken heart.
Love you forever Truffie!
Thank you Carol for the care and readiness you give to each of your puppies before sending them to their forever homes.
God bless, 
-Jen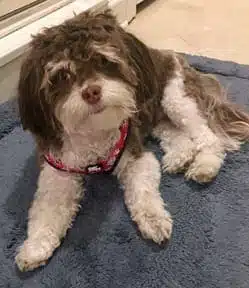 PRESLEY
Dear Carol,
Presley had a good well-check examination yesterday…  Doctor said he has a strong heart!  ….
Thank you again for breeding such a wonderful puppy and companion for me.  I truly think he is perfect!  Besides being adorable, he is fun, loving, quiet and sleeping through the night in his crate in my bedroom.  He already "comes" when called and "stays" for a short time when instructed.  We're working on "potty outside" using dog bells, and I feel he's starting to understand.
I am so happy!
-Janan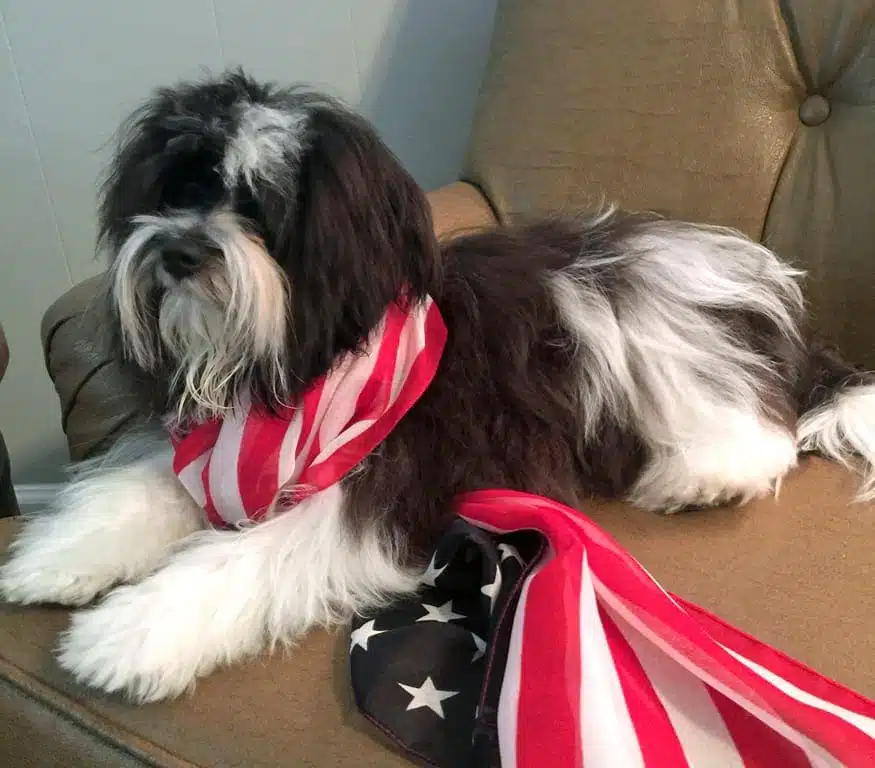 NOEL
Noel
 is amazing, i love that little stinker. She had a good check up,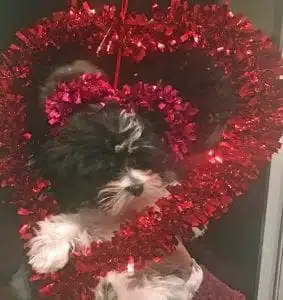 they thought she was too little for rabies as well they gave her boosters but waiting till Feb 28 th.  She is such a smart little cookie.  First day i taught her to sit and shake hands. Now she's will sit and wait. She's so precious, i love her such an awesome personality.
-Julie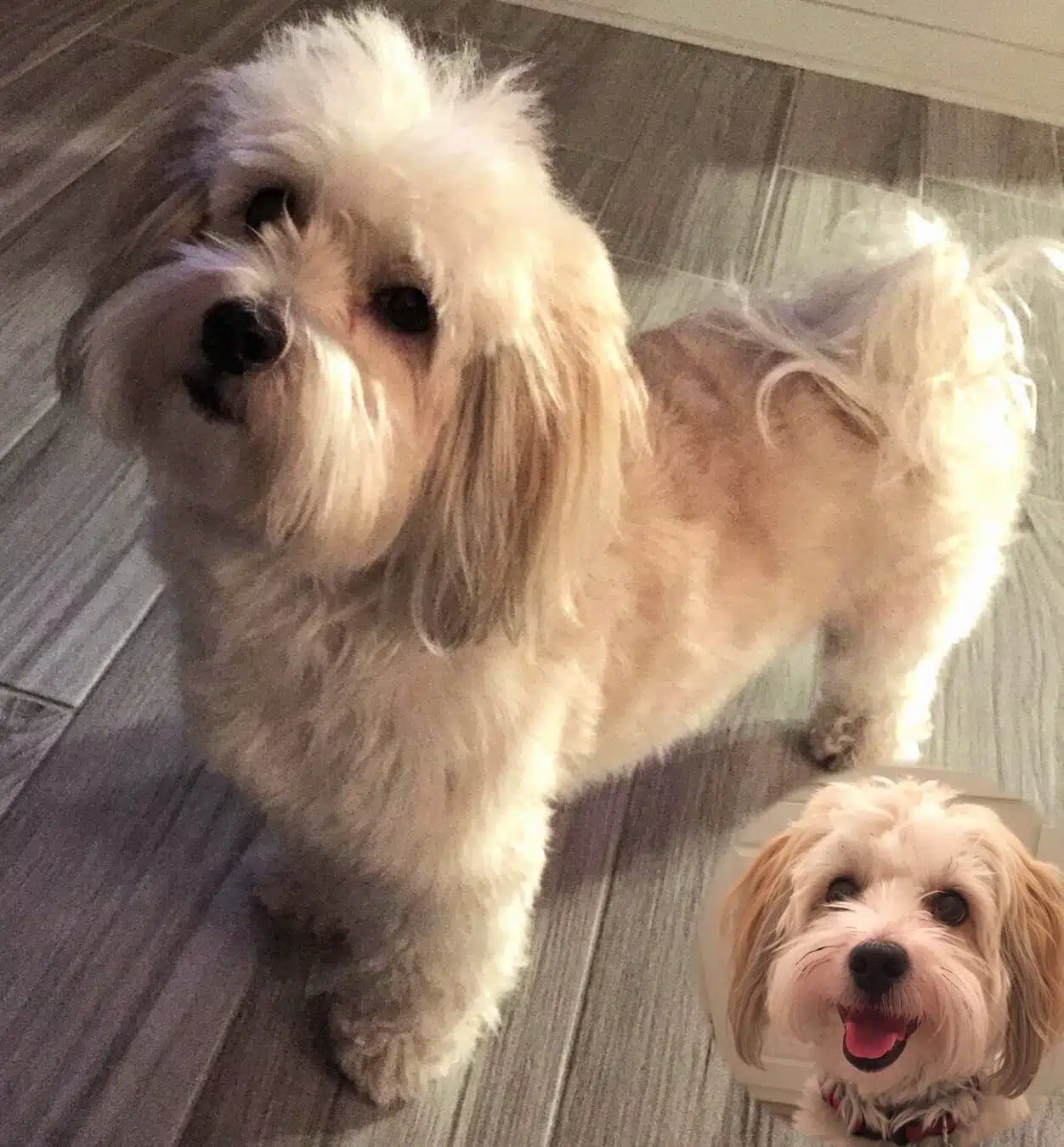 JOEY
Hi Carol,
I got Joey from you 2 1/2 years ago. He has absolutely changed my life!  I can't imagine a better companion…  We are looking forward to warm weather so we can get back on the paddle board.  I thought you might like a recent picture.
-Vicky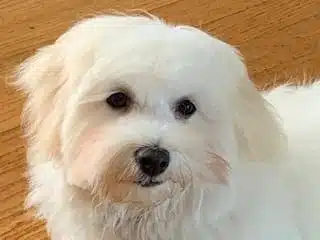 WILSON
Hi Carol,
Wilson is doing great. He is, in our somewhat biased opinion, absolutely the best dog in the world. We are crazy about him. 
He is a people puppy; he loves absolutely everyone. He likes other dogs, but he loves people. He has amazing instincts about who is a playmate and who needs to be treated with gentleness and patience. 
He is also extremely smart. He knows sit, down, stay, come, off, heel, no, shake, roll over, spin in a circle, and play dead. He's working on learning to beg now. 
He's a true family dog, loving us all and dividing his attention among us. He is tightly bonded with my son, despite his being away at school, and absolutely lost his mind with joy when Andrew came home Friday for spring break. They are having a delightful weekend, and I'm completely convinced the only reason Andrew is home for a few days of spring break is to see Wilson. ..
In short, he's a blessing and a delight. We couldn't be happier with him, and can't imagine our lives without Wilson!..
Best, 
-Beth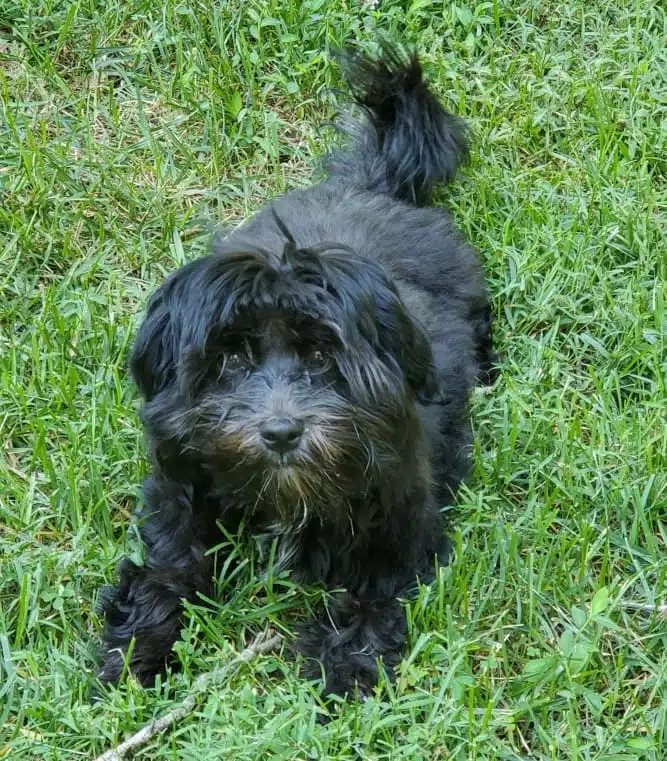 Willow Is happy
Carol; Connie and I would like to thank you for all the information you have provided us with before
picking up our sweat baby Willow.  I was looking into different breeders after we lost our 2nd Yorkie, it's been 1 ½ and multiple searches talking to several breeders around the United States. When we contacted Carol, I could tell she was different from all other Breeders, the care love and soft temperament she shows the Pups is what I found when we made a in home visit.
Our Havanese came home socialize with a blanket and toys having mommy scent to comfort her in the new environment, crate training and other commands she is learning at a fast pace. Sitting, Stay before eating, Climbing up and down (20) stairs is a simple task for her now, house breaking is still a work in progress but in 3 weeks I have seen progress of her  keys telling us when its time.
We purchased a loving, great with kids, rarely barking, well socialize puppy from KingsKids Havanese.
Thanks again
Ron and Connie
Kingston, TN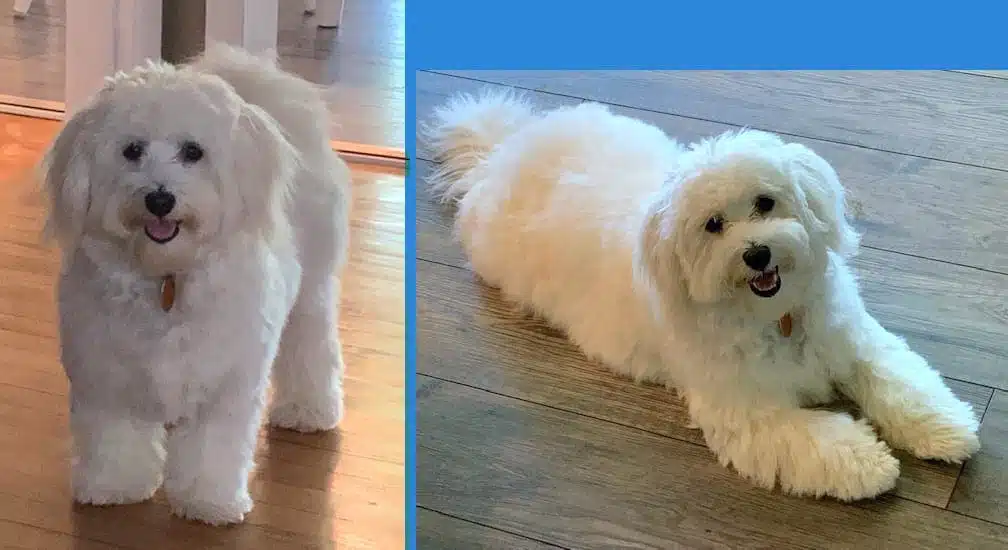 Wilson Summer update
Wilson smiles ALL THE TIME. Thank you for breeding so wisely! He has the most cheerful, happy disposition possible. We are all completely crazy about him. 
Regards, 
Beth
see our puppies in action
Cash
 Carol he is the BEST! Couldn't ask for a better Havanese. He is the most loving and well mannered dog. Thanks Carol.
Mary  , Corbin, KY
Wilson  is doing great!
"Hi Carol,       Wilson is doing very well. He's adapted quickly to our home and family-gives plenty of love and attention to us all. All the rain we've had since he came home has hampered our house breaking efforts a little, but he's making progress. He is super sweet and has learned some basic commands.
Hope you had a Merry Christmas and your 2019 is off to a great start. Thanks for letting us continue to tap into your knowledge!"    Beth in Alabama
Merry Christmas from Maggie
Thanks for our Angel, Carol!   Brian in Tennessee
Maddie is happy at home with Nicole
" Hi Carol!  Abby (Maddie) is doing great@ She is trained to ring a bell when she needs to go outside.  She can already sit on command. We love her so much!  She is the best puppy ever. Thank you so much for our sweet baby! "   Nicole in Georgia
Clover
"She is so wonderful and such a fun and loving dog.  She loves puppy playtime….thanks for such a blessing in our lives….I see you are having more puppies….we just love ours.  Every night before her dinner, we give thanks to God for Clover…thank you Carol.
Have a blessed week,
Jolene  –Harrisburg, Pensylvania
Luna update
Hi Momma Carol! I'm loving my new home! Walks in my pink coat are my fav. My color is really changing already as my face is now mostly white. I'm a healthy 5.2 lbs and still love to eat! Apples and carrots are my fav treats! I'm house trained and crate trained completely. Fetch is my favorite game to play and my family tells me they hit the puppy jackpot with me! Just wanted to give you an update! Luna (formerly Pepper)
Thank you so much for your email Carol and all of your help in general.  We are totally in love with our new puppy!!  Our daughter renamed him Larry, which may sound odd but is a very special name to her so it fits well.  Although he is even cuter in person as she said, he is even sweeter.  He was fine on the trip and woke up a couple of times but we consoled him back to sleep easily.
I've spoken with the vet already and she is totally on board with that plan for his next shot.  Knowing nothing about it I am really appreciative that you brought it to our attention.  Sean was really relieved and impressed with your attentiveness to the whole situation, especially with such a long drive.
Amy and Sean  Wilmington, DE
I was very interested in the Havanese breed and was lucky enough to find KingsKids Havenese. Carol, the owner, is a jewel. This was also my first time to get a puppy so I was full of questions. Carol is so knowledgeable of the breed and was SO patient with me. I brought home a precious little girl that is such a joy. The entire experience was exceptional. If you're looking for a havenase you can't go wrong with KingsKids Havenese.
Janice,   Birmingham AL
Jewell is now Honey and we are so happy to have her.  She has brought additional happiness to our home and fits right in with friendship toward my husand's "rescue" dog, Rebel.  They play hard and then chill out.  Honey has slept with the three of us every night and snuggles close to my side.  She curls up with Joe while watching TV in the daytime.
Billie and Joe   -Alabama
Cadbury
Hi Carol,
How are you? I wanted to send you some new pictures of our beautiful puppy, Cadbury. She is the best decision I've made so far, I am so happy with her. She is so playful, friendly, and affectionate. She gets so much attention everywhere we go and she loves it! The last few months have been lots of work but I have been so rewarding. I couldn't be happier. I hope you're doing well!
Take care,
Desi
Hi Carol,
I can't believe Desi is almost 7months old already!  He weighs a whopping 7 lbs now!  It feels like he's been here forever, he's such a part of our family.  He's hit all the milestones along the way, and a big one was being neutered.  I was going to wait a couple more months but he started some of those boy dog habits that were not so good!  Should I just send you a copy of the receipt that shows the procedure?
I've given your name to several people that have seen him and fallen in love!  Wherever we go he attracts attention and they want to know where he came from.  He's really friendly and loves everyone, plus he's so cute you can't help but be drawn to him.
Hope all is well with you…
Cindy  – Tennessee
Callie
As Callie is approaching the one year mark on July 30th, I thought I would send you a couple of photos and give you an update.
She is such a good puppy and we love her more than anything!  She is now house trained and has passed her AKC Canine Good Citizen test.  We are in the advanced class at puppy school and she has matured so much since we started taking classes.  In addition to obedience training, she has learned to "say hi" by waving her paw and she will "dance" by standing on her hind legs and turning around for a good treat.
Her silky puppy coat has been replaced by a beautiful thick coat of fur and she is just gorgeous!  She loves to get her teeth brushed every night before bed and goes right into her crate before lights out.
I can't thank you enough for the wonderful job you do of breeding such precious companions.  She is everything we wanted and much more – a real champion!
Best regards,
Pam
Dreamer and Joe Friday
Hi Carol,
 Hope this finds you well.  We are most excellent.  Dreamer and Joe Friday are now at a weight of 6.3 and 6.6 respectively.  They are the LOVE of our busy days!  We are training them to come, sit and stay.  They ring the cow bell when they need out.  They really enjoy their crate time also.  Finally sleeping all night! Yeah!!!!!!!!!!  Accidents have been minimal…….the rain and snowy weather really throws them off!  I just reinforce the potty pad usage.  OMG, they love the vitamins.  They will dance for them!!!!! … They both love a good lap cuddle and body massage….they become as limp as a wet dishrag.  We are so pleased with them and love them so much.  They are a joy to watch them play together….running games are their favorite.  The leash has not been a problem..they stand very still and wait for you to get it on them.  They are not crazy about wearing their sweaters though.  We had to get a size larger sleeping pen for them……they cuddle together and snooze away!
Once again, Thank you so much for raising such special little animals!
                         Many Blessings, Brenda    
Annie
Annie is thriving and loving our family.  She is very healthy and quite athletic.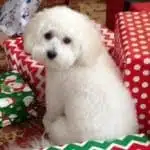 She has a particular passion for running with me morning and evening.  Her jumping skill is quite impressive as well.
We all have bonded with her and she has finished an obedience course with a trainer.    She is very happy and content.  We are delighted to have her in our family.  She has been a very
good fit.
Best wishes,
Jim     Ashland, KY