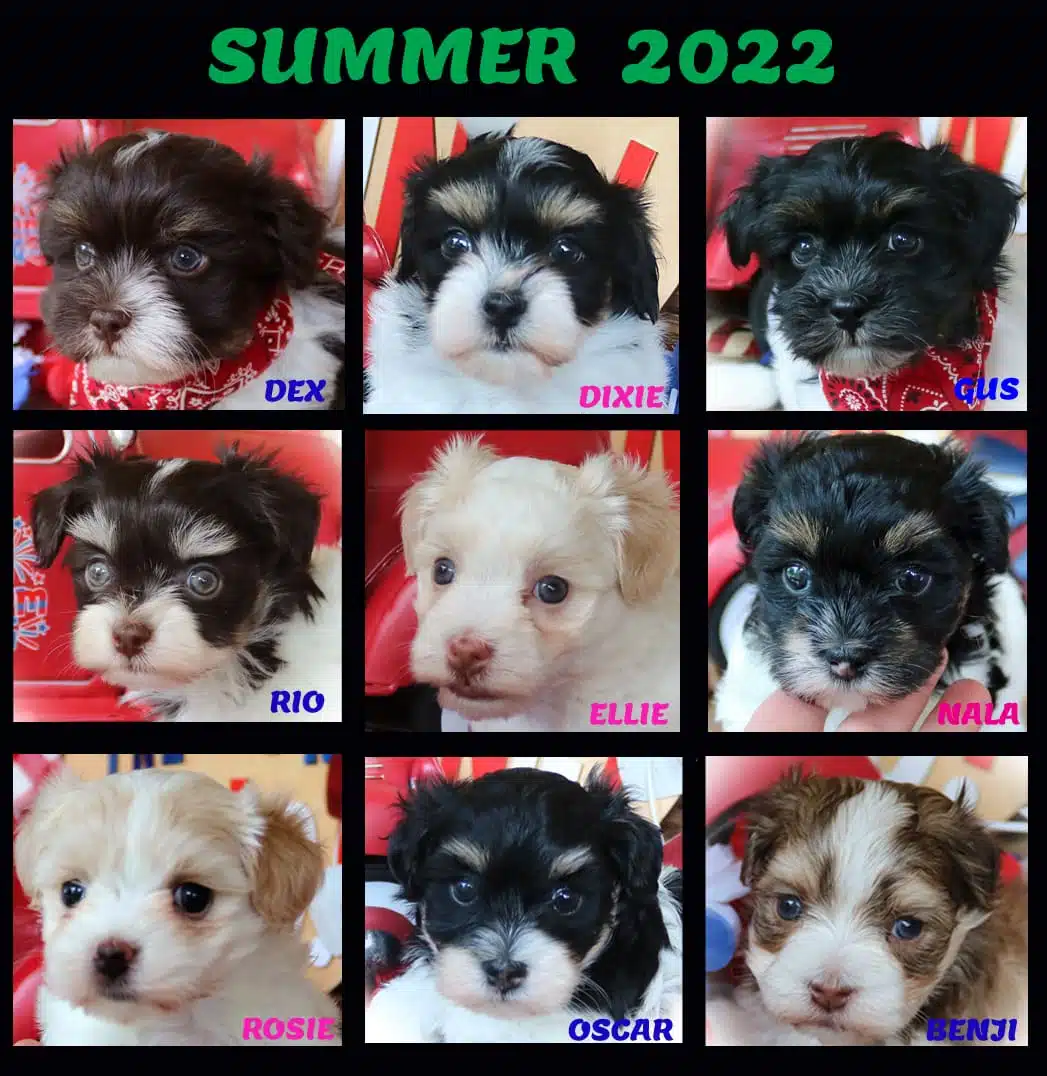 KingsKids Summer litters are FABULOUS!
$ 2995-3495

NOSE PIGMENT  will continue to come in over the next couple of weeks until completely filled in.   This is a completely normal part development as they are all born with pink noses.   Try to picture the nose filled in
ELLIE - Available - CHOCOLATE FEMALE -$3195
Ellie is a sweet, playful, confident,outgoing little girl.  She loves to be picked up and is very social.  She is a red chocolate with gorgeous soft green eyes.   Her  parti coloring will likely stay in the reddish tan  against cream and it looks like she will have green eyes.  She does have a little color coming in on her back,  but her ears will always be the darkest.   I estimate her to finish out between 9 and 10 pounds.   
GUS -- AVAILABLE -MALE -$2995
Gus is a sweet , quiet little boy.    Gus has  a darker face pointed with a touch of white over his nose and a little white chin and tan eyebrows coming in more and more.  When you look, he will win you with those beautiful eyes.   He has nice body markings and incredibly soft hair. He is slow to warm up to new things,  but loves being loved on.   I estimate him to finish out between 10 and 11 pounds.   
BENJI - Available -CHOCOLATE SABLE -$3495
Benji  is super sweet, happy and loves to be held. His markings are perfect Irish Pied and he is cute as a button.  He is stunningly beautiful with those green eyes!

  He is chocolate and will a chocolate sable, ending up   apricot tan  on cream with some black tips on the ears and around the face.   I estimate him to finish around 10 pounds although he may be a bit smaller.    His coloring being sable, he could get lighter, particularly as he goes through coat change around a year of age,  then the color will darken a little again closer to his puppy color, but never as dark.  He is much darker than his mommy when she was his age, so I expect he will be a bit darker than her when fully mature. 
DIXIE - Chosen by Jeff J. Female -$3195
Dixie is a total babe and the most social of the litter.  She is a tricolor with black, white and tan.  She was the first to walk and the first to come up to me.  She has a healthy energy and loves to play though she loves to interact more.  She spent most of her photo time trying to climb into my  hand.  She is mostly white but has some ticking coming up on her back so there will be some color in the white area.   I estimate her to finish out between 9 and 10 pounds.   
DEX - Chosen by Mary -CHOCOLATE MALE -$3395
Dex is a beautiful sweet boy with nice markings and hazel green eyes.  A dark chocolate,  he may lighten slightly, but still will be a very nice brown.  I do not see any silver.    He was the most relaxed in the litter when doing the neurological exercizes.  He is very easygoing.  I estimate him to finish out between 9 and 11 pounds.   
RIO- Chosen by Linda C. - CHOCOLATE MALE -$3495
RIO is a little smaller and a total babe with fantastic markings and hazel green eyes.  A dark chocolate,  he has lots of color that will likely end in a hersheys brown.  He will definitely  turn heads when you go for a walk!   He has beautiful tan eyebrows and a little tan on his cheecks.  He is quiet and easy going.  He prefers quiet play than the spunky wild play of some of the others so he will be a calmer dog as an adult.    I estimate him to finish out between 8 and 10 pounds.   
NALA Chosen by Lillian- FEMALE -$3195
Nala is a sweetie.  She is sweet,  confident and ready to play.     She has her daddy's nice face markings and some little eyebrows coming in as well.  I estimate her to finish out between 9 and 10 pounds.   
OSCAR - Chosen by Lori and Alex - BLACK/WHITE MALE -$3395
Oscar is a beautifully marked little guy.  He is easygoing and will likely be a cuddlebug.   His flashy markings will turn heads for sure and look at those tan eyebrows!   He is definitely more laid back.   I estimate him to finish out between 10 and 11 pounds like his daddy.
ROSIE - Chosen by Carli -RED FEMALE -$3495
Rosie is a total babe. She is a rare "clear" red havanese that is very popular right now.   I would keep her as a future mom,  but she will a bit small for that.   Rosie was the first to begin walking,  the first to be social,  the first to start eating regular food – which she loves.  All that shows that her smaller size defies her spunky personality.   Photographing her was like trying to capture a mexican jumping bean!   She wanted to play with all the props!  Supremely confident and adorable, she has a healthy energy.  Her color should continue to  deepen and with her dark pigment, I believe she will finish  nice  apricot red  against a cream body.   I estimate her to finish out around 8  pounds .